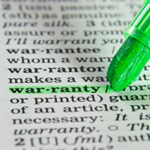 Extended warranties allow customers another opportunity to manage their ongoing costs of operations. Since your heating and air conditioning system is used 24 hours a day, year round, it requires service as it operates.
Reasons why all equipment and labor should be covered by an extended warranty:
Plan and project your costs while protecting against increases in parts or labor.
Factory warranties usually expire prior to the end of the equipment′s life cycle.
Extended warranties can cover the bill for all costs, including labor, during the insured period.
Peace of mind knowing your equipment is covered.
Ask one of our specialists to explain the extended warranties available for your new or existing equipment.
Regular Dealer Maintenance
In addition to the routine maintenance that you perform, your home comfort system should be inspected regularly by a properly trained service technician.
Your annual system inspection should include:
Routine inspection of air filter(s).
Inspection and monitor of AMP draw of the blower wheel housing and motor.
Inspection of indoor and outdoor coils. (Outdoor coils will be cleaned during the warmer months)
Inspection of the indoor coil drain pan, as well as the primary and secondary drain lines. If the system has an auxiliary drain and line, they should be inspected at this time as well.
Check all electrical wiring and connections.
Check for secure physical connections of individual parts in each unit.
Operational check of the air conditioning system to determine actual working condition.
Carbon Monoxide testing done on all "fossil fuel" heating systems (i.e. gas, natural / propane)
Some warranties require regular dealer maintenance or warranty will be voided.